Safety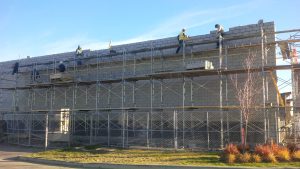 Construction sites are by their very nature dangerous places. Cardan Enterprises Ltd. is very conscious of these concerns and actively promotes safety awareness and training.
To keep staff abreast of current safety standards and practices, Cardan subscribes to government and association newsletters. It informs its staff whenever an appropriate safety or environmental course comes up, then sponsors the cost of that course creating an incentive for staff to become as well educated as possible.
Cardan prides itself on being ahead of the curve on many training and job site related issues. All of Cardan's permanent staff takes first aid courses and key tradesmen and staffers undertake new product safety education offered by product manufacturers. In the commercial field that schooling is ongoing with staff taking part in opportunities like the McDonald's bi-annual contractor training sessions.
The company developed its own harassment and bullying policy well in advance of provincial legislation and surpasses required procedures.
Job site injuries translate into lost time, medical costs and damage repair – in other words higher costs for both the contractor and consumer. Cardan is pleased to say that they had only one lost day due to injury.